Educating fans and collectors about the world of Clive Cussler is an important goal of the CCCS. With this in mind, we've provided a series of articles related to Cussler. Images may not be reproduced without permission from the CCCS. All Rights Reserved © Clive Cussler Collector's Society.
Patty Lou Cutting (Inca Gold)
10/25/2007
by bjk
Clive Cussler mentioned the grave site of Patty Lou Cutting in his 1994 novel Inca Gold. It had nothing to do with the story and raised questions by many of his readers.
Chapter 44, Page 398 quote:
"... Lower down there were more recent burials of the townspeople. One tombstone in particular caught Pitt's eye. He slipped to the ground over the rump of the horse and walked over to it. The carved letters on the weathered stone were distinct and quite readable.

Patty Lou Cutting
2/11/24-2/3/34
The sun be warm and kind to you.
The darkest night some stars shine through.
The dullest morn of radiance brew.
And where dusk comes, God's hand to you.
"Who is she?" asked Pitt. Billy Yuma shook his head. "The old ones do not know. They say the grave was made by strangers in the night..."
Chapter 62, Page 536 quote:
"... Pitt walked Loren up to Patty Lou Cutting's grave. She knelt and read the inscription on the tombstone..."
Yahoo! Interview with Clive on Dec 15, 1999.
Heard no more asks: What is the gravesite at the end of Inca Gold?
Clive Cussler: Oh, that's interesting. I took an archaeological tour through the Sonoran desert in Mexico and in one small village at a cathedral with a graveyard, I found this tombstone in English to this young girl. And I thought, how did she come to be here? There was a marvelous inscription on her tombstone. So I really put it in the book as an interesting sidebar in hopes that somebody might write me and tell me who she was, but none did. And people always ask me, why was she in there, because it didn't have anything to do with the plot. One fellow wrote me and said his minister used to close his sermon with that inscription and another one found on a gravestone in England. The closest I could come, was that Mormons went down into Mexico to form a colony and the best possibility was that she was the daughter of a Mormon missionary because she was only 10 years old.
RESEARCH:
Writing on headstone:
The sun be warm and kind to you.
The darkest night some stars shine through.
The dullest morn of radiance brew.
And where dusk comes, God's hand to you.
The tomb inscription comes from a song written in 1928: God's Hand to You. Since this was written during Patty Lou's lifetime (1924-1934) it's possible it was a favorite song of hers or just a popularly used inscription. No clue as to who Patty Lou is though.
God's Hand To You - A Blessing for the Journey for use as a benediction, evening service or memorial service. Sacred Choral Anthems.
Full lyrics:
God's Hand To You
Vs. 1: The sun be warm and kind to you,
the darkest night, some star shine through,
the dullest morn a radiance brew,
and when dusk comes, God's hand to you.
Chorus: And when dusk comes, God's hand to you.
Vs. 2: The moon be bright as you're trav'lin' through,
the coldest day strong fire renew,
the driest valley still yield dew,
and when dusk comes, God's hand to you.
Chorus: And when dusk comes, God's hand to you.
http://www.gabriellasnyder.com/
---
Al Giordano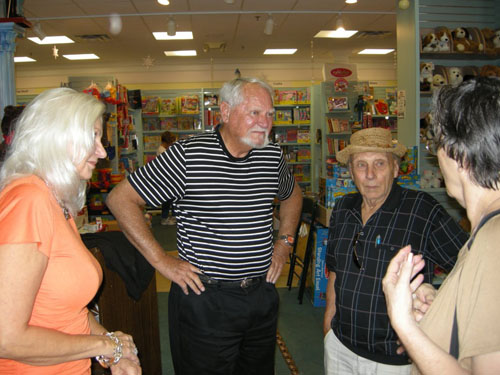 Tom Gwinn took this photo in Vero Beach, Florida on November 21, 2009. Clive was there for a book signing and Al and his wife showed up.
Clive's long-time friend, Al Giordano, passed away in October of 2013. He met Clive when they were in the Air Force and was the person Clive modeled "Al Giordino" after in the Dirk Pitt books.
---
How many books has Clive Cussler written?
51- books published by Clive Cussler in the past 39 years (1973 to 2011).
by bjk 2/2012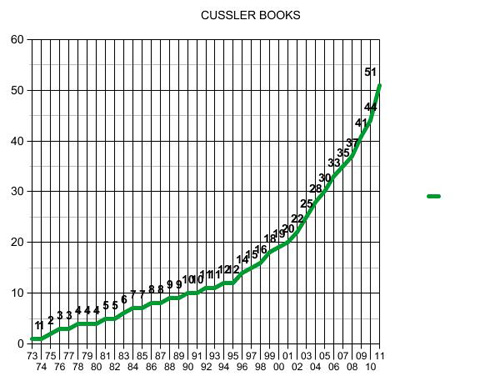 It took Clive 23 years to publish his first 14 books (1973 to 1996).
It only took him 3 years to publish the last 14 books (2009 to 2011).

Go to our FIRST EDITIONS web page to find the current list of Clive's work.
---
Clive Cussler 1986 Webcast by Don Swaim
Don Swaim of CBS Radio studio in New York, interviews Clive Cussler in 1986 after the release of Cyclops. This is one of Clive's best interviews. This 30 minute webcast covers it all.
Link no longer available...
---
Arctic Drift Uncorrected Proof for Limited Distribution
Putnam published two varieties of the Arctic Drift Uncorrected Proof.

The Uncorrected Advance Manuscript was released first. It had a small print run, 426 pages, no illustrations and the back cover is white (above right). "Advance Manuscript" is stated on the first page.

The Uncorrected Advance Proof has a larger print run, 515 pages with illustrations and the back cover is dark blue (above center). "Advance Proof" is stated on the first page.

Both varieties have the same front cover (above left), and both back covers have the same text but the layout is different. The picture to the right shows the two books side by side to show the difference in the spine layout. The book on the left is the Advance Manuscript.
---
Arctic Drift book tour schedule
The new Dirk Pitt Novel
by Dirk Cussler and Clive Cussler
in book stores 11/25/08
Link no longer available...
_________________________________________________________________________
Radio Houstoned: Clive Cussler and THE CHASE
11/10/2007
Editor Olivia Flores Alvarez of the Huston Press interviews Clive Cussler.
Link no longer available...
Keith Plocek
Houston Press
_________________________________________________________________________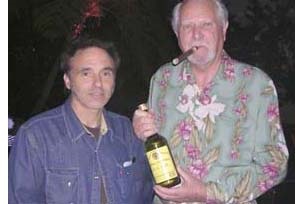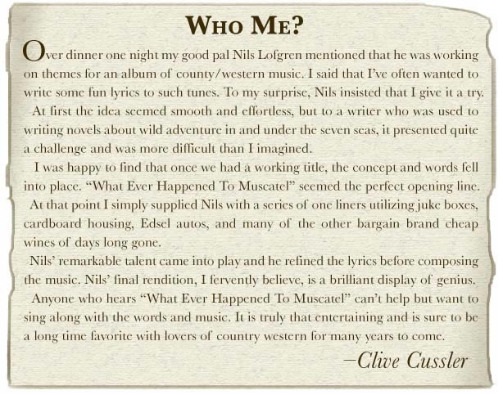 What do you get when you cross a multi million best selling author and a rock legend? Well you get a work of art….

Clive Cussler and Nils Lofgren live in close proximity of each other in Scottsdale Arizona and have been friends for many years. It was through this friendship that Clive mentioned to Nils that he had always wanted to write a "corny country song". With that said, these two creative geniuses put their heads together and have written a great song.
This Special "WHATEVER HAPPENED TO MUSCATEL?" Download Package is a "must have" for Cussler and/or Nils fans for only $5.00 using PayPal and is well worth the price. It includes a "making of" video, slide show, lyrics, notes and more. Hearing Clive sing is a real treat too. Let's show our support and order the download today at Nils Lofgren's (Link no longer available..) Nils has more of his music and merchandise to purchase on this page as well.
Nils Lofgren is a member of the Bruce Springsteen E Street Band. Visit Nils web site at NILSLOFGREN.
_________________________________________________________________________
2007 Convention
Charleston SC
Oct 5-7
Author to visit Charleston for Clive Cussler Collector's Society Convention
By Bill Thompson
The Post and Courier
Sunday, September 30, 2007
Clive Cussler lives above the waves — and far from the sea — but his thoughts oft dwell in the Deep.
Author (or co-author) of 35 books, including 19 popular Dirk Pitt novels, the Paradise Valley, Ariz., resident is just as highly regarded for his nonfiction works, which include "The Sea Hunters" and "The Sea Hunters II." The latter describe the real-life nautical expeditions of the National Underwater and Marine Agency (NUMA), a nonprofit, volunteer foundation established by Cussler and dedicated "to preserving our maritime heritage through the discovery, archaeological survey and conservation of shipwreck artifacts."
NUMA also plays a role in many of the novelist's fictional adventures, so much so that some readers confuse the factual with the fanciful.
"It happens occasionally that people think there's this big green NUMA building housing a large agency on the Potomac in Washington, D.C. But it's just me," says Cussler, whose team of volunteers searches for ships of historic significance, not least the Confederate submarine H.L. Hunley.
"Every summer, we go back to look for the USS Bonhomme Richard (a frigate in the Continental Navy), and it will be a money loser even if it's found. But it's the challenge, the history. We've found 65 shipwrecks so far, and most all of them have a story. We do archaeological reports on each one; I want to see them preserved before they all dissolve and disappear."
Cussler, credited by the National
Park Service as the discoverer of the Hunley, returns to Charleston to attend the third annual convention of the Clive Cussler Collector's Society, to be held Friday and Saturday at the Town & Country Inn and Conference Center. He will make an entrance befitting Caesar, seated in a life-size reproduction of the Confederate sub.
Founded in February 2002 by current President Wayne Valero, the society's membership consists of fans and serious collectors.
Open to the public, the convention launches Friday afternoon with a presentation of a DOXA 300T watch (the timepiece worn by the character of Dirk Pitt), followed at 7 by Cussler's grand arrival. He will be joined by his co-writers Dirk Cussler, Paul Kemprecos and Jack Du Brul.
Saturday's events feature three guest speakers. Brian Hicks of The Post and Courier, co-author of "Raising the Hunley," will talk on the subject of "Mysteries of the Hunley and Her Final Crew," while local professional diver Ralph Wilbanks, proprietor of Diversified Wilbanks, will hold forth on "From Maine to Texas to Lake Michigan: NUMA Searches For Nation's Lost History." Mark Ragan of Annapolis, Md., author of "The Hunley" and "Submarine Warfare in the Civil War," will offer an address titled "The Singer Secret Service Corp.: Builders of the Hunley, and Other Inventions Designed to Thwart the Union War Effort on Both Land and Sea."
Also Saturday, attendees will be transported to the Warren Lasch Conservation Laboratory to tour the Hunley. An evening banquet follows, featuring an address and book signing by Cussler, son Dirk, Kemprecos and Du Brul.
Both days will showcase a Fiction Writers Roundtable, an informal critique and discussion group sponsored by the society.
Cussler says he is delighted to be on hand.
"If they want to put forth the effort, I should at least cooperate and be considerate. It's for my benefit, too. Most of the members are book collectors. Me, I always collected automobiles."
The younger Cussler appears to be collecting more time at the keyboard, having assumed the lion's share of novel-writing responsibilities of late.
"Dirk's really doing 90 percent of the work now," says his dad, widely regarded as a grand master of the action-adventure novel. "I work with him on the concepts. I'll edit and make suggestions."
A former ad agency copywriter and creative director, Cussler began writing in 1965, publishing his first Pitt novel in 1973. His latest novel, "The Chase," set in the turn-of-the-century West, will be released Nov. 7 by Putnam.
For more information and to purchase convention tickets, visit the society's Web site at www.cusslersociety.com.
Reach Bill Thompson at bthompson@postandcourier.com or 937-5707.
_________________________________________________________________________
HUNLEY U-HAUL
by Steve Tracy 5/19/2007
After receiving the cussler list email about the Hunley being featured on the South Carolina U-Haul trailers, my eyes were open for them. And I found one right here in Illinois! I had to stop and take a picture of my ten year old daughter Lauren with it. Beautiful artwork!
HUNLEY U-HAUL
_________________________________________________________________________
NUMA/CUSSLER SOCIETY license plate
Florida member Tom Gwinn put the finishing touch on his black Porsche with this custom NUMA/CUSSLER SOCIETY license plate he had made. Tom will be driving his Porsche to our
2007 Charleston Clive Cussler Collector's Society convention in October, we'll see you there!
________________________________________________________________________
Treasure Of Khan Dust Jacket
by Bruce Kenfield
Here is an advanced preview of the dust jacket for Clive Cussler and Dirk Cussler's latest novel, Treasure of Khan, due out in the late fall of 2006.



scanned images may not be duplicated
without permission of CCCS
_________________________________________________________________________
Poisoned Pen book signing 2/26/2006
by Bruce Kenfield
Clive Cussler and Paul Kemprecos signed books at Poisoned Pen Central in Phoenix on 2/26/2006. About 100 people showed up and The Clive Cussler Collector's Society had about 17 members attend, a very strong showing by our group. Barbara Peters of the Poisoned Pen let us set up a table and we handed out information on our Society and the upcoming Scottsdale Clive Cussler Collector's Society Convention in October 2006. Clive and Paul talked and answered questions before the signing. Dirk Cussler even showed up. Barbara Peters, owner of The Poisoned Pen, asked Wayne Valero to say a few words about our convention in October. After the signing, a few of us went out to dinner (see picture). Starting at left: Linda and Phil Matthews, Pam Hires, Patti Cothren, Cristie and Wayne Valero, Charles "Buddy" Martin, Rob Greer, Robert Pushkin, Andy Noyes (he's shy), Bruce Kenfield and Morgan Yates. A good time was had by all. We'd like to thank Cristie Valero, Pam Hires, Patti Cothren and Rob Pushkin for helping out at our table.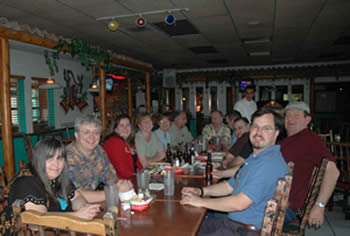 _________________________________________________________________________
Clive's Corner
by Clive Who?
NUMA NEWS
June 1989
VOL. 1, NO.1
9/7/2005
It's been said that because I search for historic ship­wrecks instead of treasure galleons I belong under restraint in a rubber room. A thought often expressed by my accountant and literary agent who think money is better invested in mutual funds than thrown in the ocean.
Someone also suggested that I follow the beat of a drummer who plays in a band on the other side of town. That may be. I never did have a good ear for music. My wife will show you her black and blue toes to prove it.

For some psychotic reason, I've never Contracted treasure fever. The lure of sunken gold and silver took the train north while I went south. Yet, I can under­stand the fantasies of people whose eyes glaze over at the dream of finding a long hidden chest filled with egg-sized diamonds and emeralds. The discovery of treasure is the most exciting and adventurous method of getting rich ever devised by man.

There is no financial profit in what we do. NUMA 's treasure is in the challenge and thrill of accomplishment after we find the wreck of a historic ship. Then, after an archaeological survey confirms the identification, we push on to the next project without looking back.

Strange? Perhaps. But I can't help thinking there must be a few good people somewhere who are motivated more by adventure than personal gain. People who will join with me in becoming a footnote in the history books.
Arctic Explorer Ernest Shackleton once ran an ad in the London Times looking for men to join an ex­edition to go under the North Pole by submarine. He offered nothing but hardship, miserable conditions, and adversity with little hope of success.
Shackleton received nearly a thousand replies.

I ran the same ad in the Wall Street Journal and received two.
It would seem the present generation of Americans won't contribute their time and money toward a satisfying effort unless they're rewarded with a pot of gold and a headline.

I keep hoping it's not true.
_________________________________________________________________________
Clive's Corner
by Clive Who?
NUMA NEWS
September 1989
VOL. 1, NO.2
9/7/2005
Searching for a shipwreck is a tough effort that can be fun and exciting. And on very rare occasions it can be financially rewarding. Most of the time though it's literally a drag as you tow magnetometer and sonar sensors or grappling hooks back and forth for days or weeks without finding so much as an old boot.
And sad to say, the disappointments always outnumber the successes.
A good example of a shattering blow occurred during one of our expeditions to find the Confederate submarine HUNLEY in Charleston. While my dive crew and I were cruising around on the dive boat, dragging the Schonstedt gradiometer to pass the time while waiting for the second crew on the search boat and it's proton mag to strike a target, we stumbled on one outside the grid area.
It was a good solid hit that indicated a fair size hunk of iron on the bottom. we were lucky in setting a buoy precisely on top of the target, and then sent the divers down. Probing the soft silt outside Charleston Harbor, they reported striking an object approximately thirty-six feet in length by four or five feet wide. They were also certain the ends were tapered. Almost the exact dimensions and configuration of the HUNLEY.
Chasing back to our base dock and loading on the dredge, we beat a course back to the buoy. Then working until sunset excavating a hole over the target, the divers finally were able to identify the sunken object.
Not the HUNLEY, but a huge buoy that had once marked the harbor channel and was lost sometime in the early nineteen thirties, according to the Coast Guard records.
You win some, and some go in the Dempster Dumpster.
But on those lucky occasions when the clouds part, the sun bursts through, and there is the sound of a drum roll, and you discover the wreck you've been looking for, it all becomes worthwhile.
Like the time I laid a mag on top of a Confederate blockade runner before I even hooked up the batteries.
Buy as they say, when a writer wants to hype the suspense, that's another story.
_________________________________________________________________________
Lost City Dust Jacket
by Bruce Kenfield and Rob Greer
Here is an advanced preview of the dust jacket for Clive Cussler's latest novel, Lost City. The flaps (not shown here) are blank as is the ISBN information area. On the back of the dust jacket, you'll see that there's a new photo of Cussler, taken at his home office. Clive is seated behind the desk where his novels are penned (or typed). The lettering on the cover of the dust jacket bears a holographic quality that changes colors when held and moved under lighting.
_________________________________________________________________________
Ford Trimotor Promotional Photos
by Rob Greer
These photos of Dirk's favorite airplane, the Ford Trimotor. He acquired the plane in Iceberg and flew it again in both Raise the Titanic and Valhalla Rising. Thes photos are from promotional or sales literature and were mailed from Ford to an engineering group in 1932. I purchased these for my Cussler collection from an aviation book dealer. These photos plus a dozen others were enclosed in the envelope you see pictured.
The envelope included eight (8) 8x10 black and white Trimotor photos, probably taken at Ford's Dearborne, Michigan operation. This Ford Trimotor 5-AT-D [NC439H], contractor's number 106, was delivered to Pacific Air Transport Incorporated in Oakland, California on April 17, 1931 where it was christened with the airline's ship-name of 'Puget,' probably because Puget Sound at Seattle, Washington was on Pacific Air Transport's route. On May 14, 1934, the plane was sold to United Air Lines in Chicago. On December 27, 1934, it was transferred to United Air Lines Transport Corporation. On March 12, 1934, the plane was purchased by George Biederman, reportedly of Interamerican Aerotravel & Supplies Corporation in New York City. Finally, on April 19, 1935, the plane was sold to Sociedad Colombo Alemana de Transportes Aereos (SCADTA) of Colombia. The plane was delivered by air, along with NC9657, to Barranquilla where both planes were reregistered with unrecorded national 'C-' licenses.
According records provided by the FAA, the power plants featured in the photos are 420HP Pratt & Whitney Wasp C motors. A record of a similar plane, the Ford 5-AT-D [NC440H], indicates that this model had a wing span of 77 feet, 10 inches and a length of 50 feet, 3 inches with a range of 475 to 625 miles. The original price tag for this plane was $50,000 ($600,000 in adjusted 2003 dollars). This envelope also included three (3) 8x10 detailed wooden Trimotor model photos and note from Ford engineers detailing changes needed. It is suspected that the factory model pictured was intended to be used for sales display purposes by Ford.
You can also compare these photos to ones in the Evergreen Aviation Museum article on this page.
Click on the thumnails below to enlarge.
_________________________________________________________________________

1944 Messerschmitt Me262
by René Grohn
These photos of a Messerschmitt Me262 were taken at the Deutsches Museum in München Germany. In the lower right of René's third picture is a special tractor that was made to tow the Me262 to and from its hanger. The Me262 was added to Dirk Pitt's hangar in Dragon.
Click on the thumnails below to enlarge.
_________________________________________________________________________

Italian Paperbacks & Hardcovers
By Lara Marchesi
Click here to see images scanned from 16 Clive Cussler Italian paperbacks and click here to see images from 12 Clive Cussler Italian hardcovers.
_________________________________________________________________________
Comic-Con International
San Diego, California 2003
By Bruce Kenfield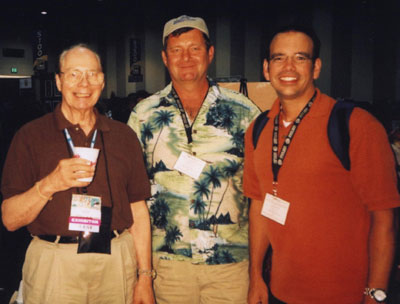 Frank Bolle, Bruce Kenfield and Rob Greer
At the event, I was finally able to meet fellow CCCS member Rob Greer; he was only about 1000 people behind me in line to get in the door on the opening day. I heard there were well over 50,000 people at the 450,000 square foot Convention center on Thursday and over 70,000 on Saturday. Some attendees dress up as comic book characters and make waiting in line to get in well worth the wait. I missed the Saturday show where it is said that the majority of the "strange" fans appear dressed in comic book character costumes. On Thursday though, I was blessed to see several attractive women dressed up as Laura Croft (Tomb Rader). I think they hire models to dress up and work the crowds. I stayed across the street from the Convention Center and people were still partying in the streets at 4:00 AM.
Frank Bolle, artist of the Raise the Titanic! comic strip fame (among other things), was very popular at the event and spent all of his time sketching and painting, trying to catch up. I spent the most of the day with Frank and his wife Lori and it was fun watching him at work. They are two of the nicest people I've ever met. On Saturday at a special Spotlight program, Frank received Comic-Con International's Inkpot award celebrating his achievements and contributions to comics over the last 50 years.
Click on the links below to take a look at a few pictures I took at the Comic-Con. Annessa, my daughter, posed with a few of the more interesting attendees for me. I hope you can easily figure out which one is my daughter. She wants to attend next year so she can dress up too. I'm not sure I'm ready for that!

_________________________________________________________________________
Clive's Car Collection
by Bruce Kenfield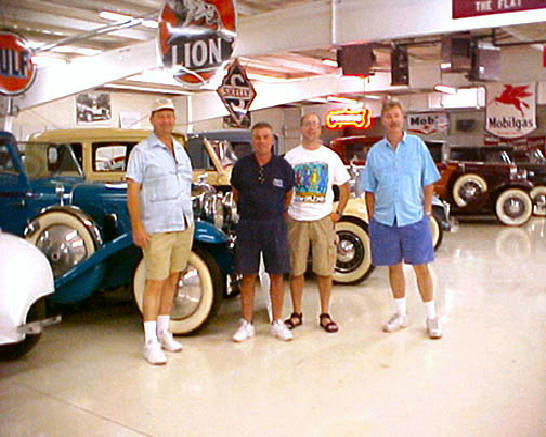 Left to right: Bruce Kenfield, Keith Lowden, Wayne Valero and Gary Conklin.
These photos were taken on August 8, 2002 at Clive Cussler's car warehouse in Arvada, Colorado. Although a bit out of the way and somewhat difficult to locate, the warehouse was not at the airport, nor was it an old airplane hangar. Since five of his 80+ classic cars were at a car show, photos of all the cars are not available. When one enters the showroom, a collection of trophies is found to the left. The cars are lined up along both walls with another row down the middle. Antique tin signs from gas stations hang from the ceiling. Wayne spotted an old Burma Shave sign that I believe was mentioned in Valhalla Rising. We were lucky to have Gary along to point out all the cars from Dirk's collection for us.
The one car that really impressed me was the Pierce-Arrow Berline and Travelodge from Inca Gold. At the far back right corner is the entrance to another showroom called "The 50's Room." This room was so full of cars it made picture taking difficult. Unfortunately, some of the shots are out of focus and some are duplicates, but we present them here for posterity.
A Special Thanks to Clive Cussler and his curator Keith Lowden of Pastimes Restorations. Click on the links below to view pages featuring thumbnails of the automobiles.
_________________________________________________________________________
Dirk Pitt's Hangar
by Gary Conklin
These photos were recently taken by Gary Conklin on a trip to Dirk Pitt's Hanger. Click on the thumnails below to enlarge.
_________________________________________________________________________
1926 Ford Trimotor - Evergreen Aviation Museum
by Bruce Kenfield
These photos were taken on March 8, 2003 at the Evergreen Aviation Museum in McMinnville, Oregon. Click on the thumnails below to enlarge.
_________________________________________________________________________
May 3, 1995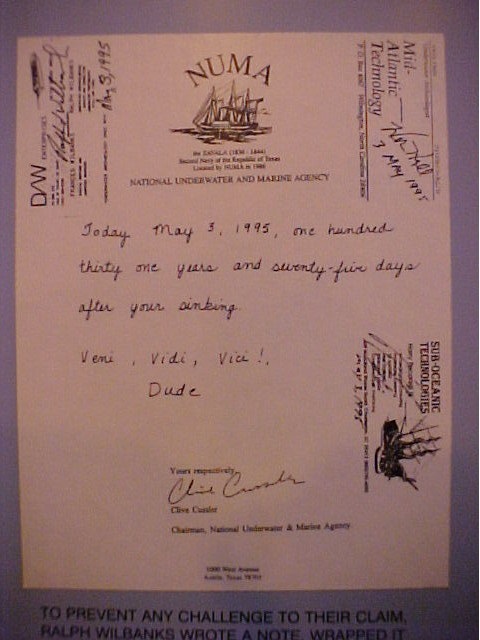 All Rights Reserved © Clive Cussler Collector's Society